Haemophilus influenzae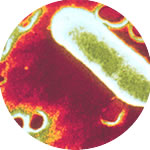 Haemophilus influenzae (or Pfeiffer's bacillus) is a type of gram-negative bacteria and the causative agent of serious human diseases. It is a fixed ovoid rod-shaped coccobacillus, size 0.2-0.3 per 0.3-0.5 microns. It is located singly, in pairs and in clusters, sometimes it forms a capsule. The bacterium has no flagella.
The source and target of the defeat of Haemophilus influenzae are only human. Most often, the reservoir of infection is bacteria carriers or patients with acute respiratory diseases occurring in a mild or clinically unexpressed form when they are not isolated. The carrier frequency in the population of healthy children is from 60 to 90%. The frequency of carriage of capsule-free forms of Haemophilus influenzae among healthy young children is slightly less than 50%.
According to the structure of K-antigen, all known strains of Haemophilus influenzae are divided into 6 serotypes (A-F). The main epidemic hazard is Type B serotype (often referred to as HiB).
Diseases caused by Haemophilus influenzae
The infection caused by Haemophilus influenzae is a serious medical problem due to the significant spread of its various clinical forms, frequent generalization, severe disease with frequent complications and a mortality rate of up to 30%. Most often, Haemophilus influenzae is an etiological factor in the occurrence of purulent meningitis, pneumonia, epiglottitis, otitis media, arthritis, cellulitis, pyelonephritis, conjunctivitis in debilitated individuals, mainly in infants and the elderly; often the disease takes on a generalized character.
Long-term clinical and bacteriological monitoring revealed that the microbial spectrum in chronic bronchopulmonary diseases in children during the exacerbation period is mainly represented by two pneumotropic microorganisms. At the same time, Haemophilus influenzae is the dominant causative factor of the infection process, accounting for 61–70%, of which in 27% of cases it is associated with Streptococcus pneumoniae.
An acute infectious disease, clinically manifested by hoarseness and stenosis of the respiratory tract (up to asphyxiation), is epiglottitis, the etiological factor of which in most cases is Haemophilus influenzae, type B.
Pneumonia
Pneumonia is a form of acute respiratory infection affecting the lungs. With pneumonia, the alveoli of the lungs are filled with pus and fluid, which makes breathing painful and limits the flow of oxygen.
Pneumonia is the single most important infectious cause of child deaths worldwide. In 2013, 935 thousand children under the age of 5 years died of pneumonia. It causes 15% of all deaths of children under 5 years of age worldwide.
There are several ways pneumonia can spread. Bacteria, which are usually present in the baby's nose or throat, can infect the lungs when inhaled. They can also spread by dropping by coughing or sneezing. In addition, pneumonia can be transmitted through the blood, especially during childbirth or immediately after it.
In children under the age of 5 years with symptoms of coughing and / or shortness of breath, with or without fever, pneumonia is diagnosed with rapid breathing or retraction of the lower chest, if the chest is retracted or retracted when inhaled (in the chest of a healthy person expands when enhaling).
Haemophilus influenzae is a very common causative agent of community-acquired pneumonia, especially in patients with previous pneumococcal vaccination and the presence of concomitant respiratory tract pathology. The severity of the disease and the presence of chronic liver disease are risk factors for a lower incidence of an early clinical response to therapy.
Bacterial pneumonia can be treated with antibiotics. A preferred antibiotic is amoxicillin in dispersible tablets.
Haemophilus influenzae in the taxonomy of bacteria
The species Haemophilus influenzae belongs to the genus Hemophilus, which is part of the family Pasteurellaceae, order Pasteurellales, class of gammaproteobacteria (lat. Γ proteobacteria), type of proteobacteria, the kingdom of Bacteria.
Vaccines and antimicrobials active against Haemophilus influenzae
The following antibiotics are active against Haemophilus influenzae: ciprofloxacin, levofloxacin, norfloxacin, ofloxacin, moxifloxacin, doxycycline, tetracycline, amoxicillin, josamycin, rifabutin, azithromycin.
Haemophilus influenzae remains highly sensitive to ampicillin, amoxicillin, azithromycin, chloramphenicol, aminoglycosides and cephalosporins II – III generations. Almost all strains of Haemophilus influenzae are resistant to antibiotics such as oxacillin (84%), oleandomycin (97%), lincomycin (100%), which indicates the inappropriateness of their use in these cases.
According to a group of researchers who performed a multicenter prospective study, beta-lactams (amoxicillin, ceftriaxone, cefotaxime, ceftibuten), macrolides, levofloxacin and moxifloxacin are the most active drugs in relation to Haemophilus influenzae. Despite the high activity of tetracycline and chloramphenicol against Haemophilus influenzae, the use of these drugs should be limited due to the low safety profile. Given the low activity of co-trimoxazole, this drug is not recommended for empirical treatment of infections caused by a hemophilic bacillus.
It should be noted that discussions regarding the activity of macrolide antibiotics against Haemophilus influenzae have been ongoing for many years. According to reference manuals and medical instructions, macrolides are active against Haemophilus influenzae, however, the interpretation of the results of evaluating the sensitivity of Haemophilus influenzae to macrolides is controversial. The minimum inhibitory concentration (MIC) of all macrolides in relation to Haemophilus influenzae is significantly higher than in relation to gram-positive bacteria, as well as in comparison with BMC beta-lactams. This fact is explained by the presence of a constitutively functioning system of active macrolide excretion in Haemophilus influenzae. Pharmacodynamic calculations indicate that the concentration of macrolides created in the focus of infection is insufficient to eradicate Haemophilus influenzae. The above facts sufficiently confirm the point of view of European experts that Haemophilus influenzae should be considered naturally resistant to macrolide antibiotics.
There are three vaccine preparations approved for the prevention of diseases caused by Haemophilus influenzae type b: Hiberix, Act-HIB, and "Haemophilus influenzae type b vaccine conjugated".
In addition, there are complex vaccines designed to prevent a number of infections, including those caused by Haemophilus influenza, for example:
Pentaxim – a vaccine for the prevention of diphtheria and tetanus adsorbed, pertussis, inactivated poliomyelitis, an infection caused by Haemophilus influenzae type b conjugated;
Infanrix Hexa – a vaccine for the prevention of diphtheria, tetanus, pertussis (acellular), polio (inactivated), hepatitis B combined, adsorbed in conjunction with a vaccine for the prevention of infection caused by Haemophilus influenzae type b.